Just in time for the peak of summer, Phil Austrom and renowned Pacific Northwest producer Mr. Stee reunite on their sophomore collaboration EP, "Too Little, Too Late." The record reaffirms the pairs deft at combining jazz, hip-hop, and dance music while also showing a clear and substantial growth in its creators. This new project is a cleaner, smoother, loftier production than their 2018 debut, "Origins,"; its levels of refinement, cohesiveness, and artistic daring soar well beyond that of its predecessor.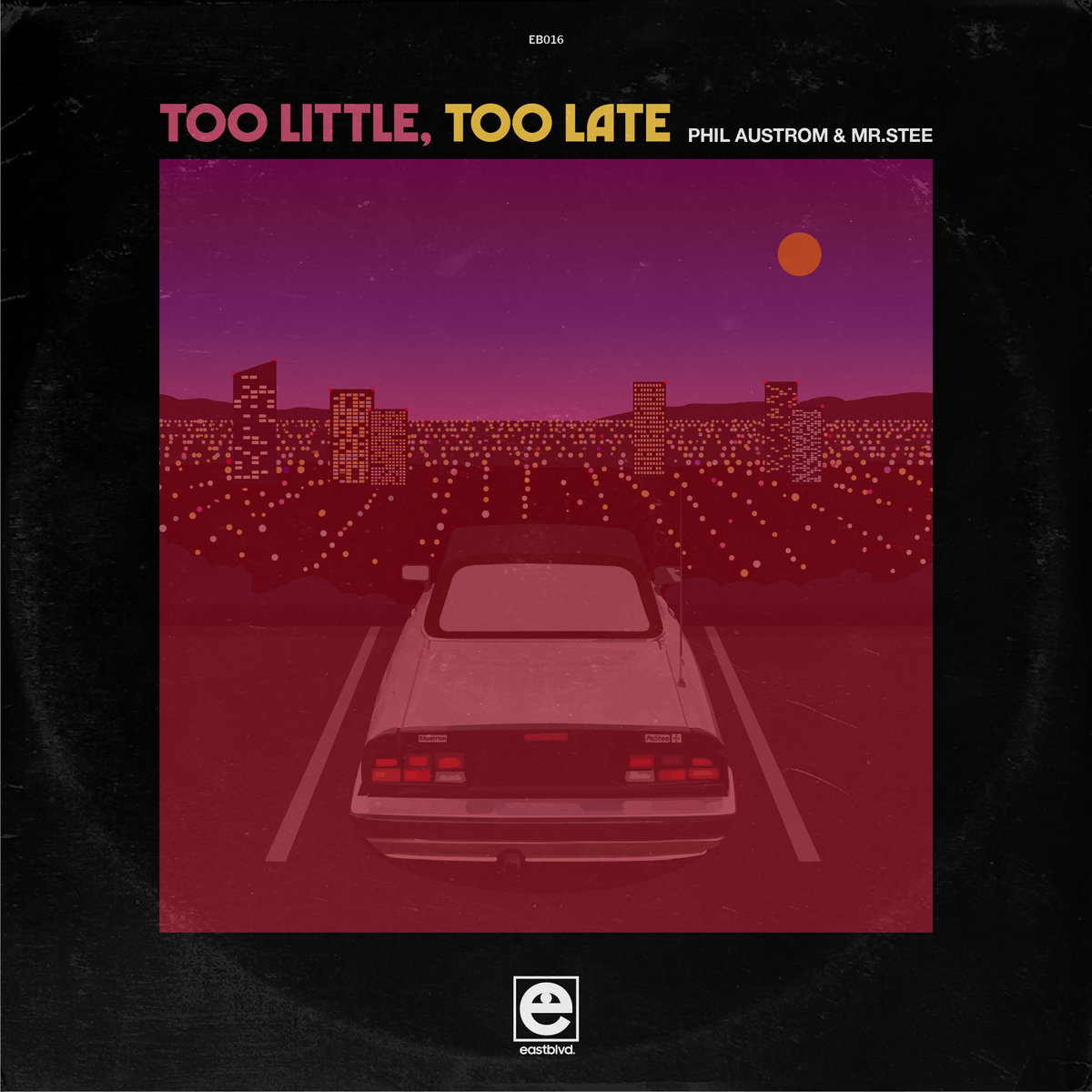 "Too Little, Too Late," starts with a slow, atmospheric, rolling movement with 'Loading,' a brief but lush extra-terrestrial build-up which melds into the moody yet punchy 'Too Little.' On 'Too Little,' Mr. Stee cultivates a dynamic and layered dance beat which combines with Austroms powerful riffs – arguably his catchiest on the album – to bring an invigorating commencement to the project. 'Too Late,' a grooving, G-Funk inspired odyssey, follows with a plethora of unique movements that sandwich a soulful solo from Austrom. Chock full of stringy, bouncy synths and echoing jazzy trumpet, it is some of Mr. Stee's most experimental production in his work with Austrom thus far. 'Too Late,' serves as an emblem of the level of simpatico and potential for growth between the two collaborators.
On 'Space & Time,' Chris Goodchild briefly seizes the reigns of production, bringing with him a beautifully intricate glitch-hop pace and sound to the EP. In particular, and in addition to the lush soundscape he creates, Goodchild does a masterful job of fading Austrom in and out of prominence as needed. During the build-up and resolution, Austroms trumpet lurks in the background – only to unabashedly assert itself center-stage during the song's climax. Similarly, Goodchild fades in and out of the EP like a friendly ghost, providing a contrasting but complementary fulcrum to Mr. Stees more upbeat, punchy production that surrounds it.
Announcing his return with the fashion and sensibilities of a true curational showman, Mr. Stee masterfully restores the EP to something closer to its previous pace with a scatty, bubbling, Flying Lotus-esque transition on the aptly named penultimate track, 'Think Slow.' Not quite as energetic or jaunty as the albums' eponymous tracks, 'Think Slow,' balances slightly more melancholy and doubt, those pesky things contained within all of us that make us human. The result is a little extra space for Austrom to anchor the track with a solo, and the product is the most soulful and moving song on the album. None of this, of course, without Mr. Stee providing a sensually-rich backdrop for Austrom to draw from and elaborate on, and Mr. Stee keeps up his end of the bargain and then some. Mr. Stee provides Austrom with space to thrive during the solo, and his build-up and resolution on 'Think Slow,' show off his ability to induce a range of reactions and emotions within short constraints. His production shows a clear thematic stream of thought that continues to reassert itself across his work with an ever-increasing consistency.
"On My Mind," the first single and final cut off of Phil Austrom & Mr. Stee's upcoming EP "Too Little, Too Late," combines hypnotic house grooves, complex changes of pace and beat breaks, and short, catchy riffs that have come to be the hallmark of the duo's collaborations. Austrom's riffs ring hypnotically in the background while Mr. Stee lays the foundations of a track that seems like it would be snugly at home in the back halves of many a house DJ sets. It's hard not to dance to this song.
"Too Little, Too Late," will be available for purchase across all platforms on July 10th, 2020. In preparation for the EP's release, Austrom also released an hour-long, lavish mix of deep house and hip-hop cuts, including tracks from the album and tracks from the Eastblvd label crew. The mix can be found here.